Integrity, innovation, quality, and high price.
Integrity, innovation, quality, and high price.
Molecular formula: NH4HCO3, molecular weight: 79.06, appearance: white monoclinic, orthogonal or irregular crystals, under normal conditions is a solid powder or particles. Density: 1.573, the purity of ammonium bicarbonate nitrogen content is about 17.72%, ammonium bicarbonate easy to decompose, decompose into ammonia, water, carbon dioxide. When the ambient temperature is below 10 C, the chemical properties are stable and basically do not decompose; when the ambient temperature is below 10 20 C, the decomposition
is not significant; when the ambient temperature is above 30 C, a large number of decomposition. The greater the humidity, the higher the
temperature, the faster the decomposition. Soluble in water, alcohol, acetone, aqueous solution is alkaline.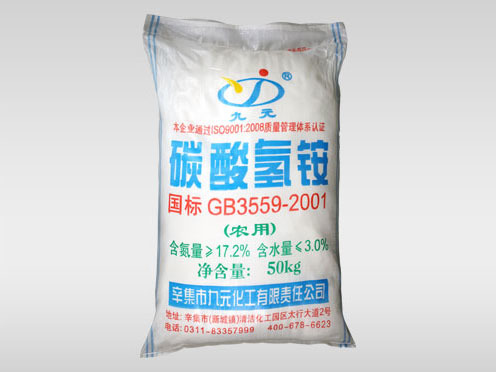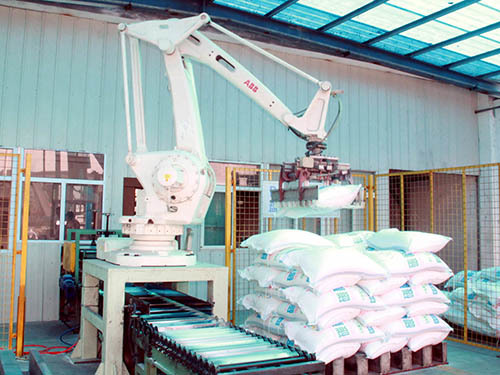 ※ As a neutral fertilizer, it is suitable for all kinds of soil and crops. It can be used as base fertilizer and topdressing fertilizer, long-term use will not cause soil hardening, while providing ammonium nitrogen and carbon dioxide needed for crop growth.
※ It is the raw material for producing potassium carbonate and producing reagent carbonate by ion exchange, foaming agent for foam rubber.
※ The pharmaceutical industry is used as an extractant for vitamin B1, an ampicillin intermediate and an aminated agent for phenylalanine.
※ Leather industry is used as buffering agent for tanning.
※ The bulb industry is used to prepare ammonium fluoride etchant for frosted bulbs.
※ It can also be used as food fermentation, mainly used as food high-grade starter, with sodium bicarbonate can be used as a cake, biscuits and other bulking agent raw materials, can also be used as the raw material for foaming juice, with refrigeration and scalding and electrolyte raw materials, also used as a fire extinguishing agent, auxiliary materials for the production of phosphor.